Wakolda (aka The German Doctor)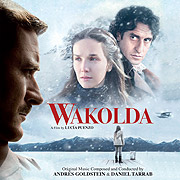 With awards season stepping up a gear today following the announcement of this year's BAFTA nominations, all eyes (and ears) are on the big contenders. Gravity, 12 Years a Slave and Saving Mr Banks appear to the be leading the way on various lists, with the composers of those films' scores each up for a BAFTA mask this year (alongside those for The Book Thief and Captain Phillips).
Glancing through the full list of nominees I expected to see The German Doctor in the list of films nominated for 'Film Not In The English Language', but it wasn't there. Also known as Wakolda, the Argentinean drama has been on the festival circuit, seemingly picking up notices wherever it went (including in Cannes), not to mention ten awards at the 2013 Argentinean Academy Awards; and those notices keep coming with a nomination this week for 'Best Latin American Film' at the Goya Awards.
The film, written and directed by Lucía Puenzo (daughter of director Luis), is a brilliantly performed piece with notable turns from Alex Brendemühl and Elena Roger (perhaps known to UK audiences as a West End star having led the 2006 revival of Andrew Lloyd Webber's Evita, starring in the title role). Set in 1960, Roger stars as the mother of a small family who take in a mysterious German doctor (Brendemühl) at the guest house they've recently acquired and moved into in Bariloche, Argentina. The doctor, claiming to be undertaking veterinary research, takes a seemingly unhealthy interest in the wellbeing of the family's youngest daughter and her pregnant Mother. As it turns out the house guest is one of the world's most insidious criminals, the infamous Nazi Doctor Josef Mengele, and it seems his intentions are less than noble.
With beautiful cinematography, intense performances and suitably sinister undertones, the film certainly impresses and its score functions on a variety of emotional levels. Providing the original music for the film is Argentina's talented composing duo Daniel Tarrab and Andres Goldstein; the pair's work is always beautifully executed and in my opinion right up there with the Argentina's greatest film music exports (and yes I'm talking about Schifrin, Bacalov and Santaolalla). Having immersed myself in Tarrab and Goldstein's gorgeous offerings for the likes of La Puta Y La Ballena, Some Who Lived, La Señal and XXY, I read about this film and assumed we'd be treated to a score with similar sweep and lustre. To say this latest effort is somewhat more insular might seem like I'm being negative, but far from it. The music-scape they create for this dramatic thriller is keenly focused, with a nod to that sinister undercurrent in later passages, but largely adhering to a distinctly contemporary palette (made up of guitars, percussion, piano, duduk and vibraphone) which captures a sense of location, era and something of the bond between the small family. Strings feature too with a small ensemble of a few violins and a couple of viola and cello; these of course add some dramatic weight and much needed emotional hues.
The original score has been released by the ever-surprising Quartet Records and it features source tracks from the film, including the infectious party music 'Wumba Tumba Schokoladeneisverkaüfer' and a couple of pieces by Warren Ellis, such as the instrumental 'Rain Song' and the lengthy 'Sea Above, Sky Below', performed by Dirty Three. Of the score tracks 'Just a Game', 'The Journey' and 'Dolls Factory' are particularly evocative with simple use of solo guitar and programming, while the likes of 'The Forest' introduce uncertain strings and guitar that are drenched in a sense of impending disaster and distrust (continued with great effect in 'The Persecution' and 'The Persecution Continues'). 'The Hunt Has Begun' is another standout cue (echoed in the End Credits), and is a key thematic for the dangerous situation into the family is unknowingly becoming entangled. It's certainly a different sound from the accomplished composers, but not an unwelcome one. Wakolda is an engaging piece with a lot of soul and just a touch of agitated terror.
Hopefully the Amercian Academy will see fit to honour the film with an Oscar nomination in the coming weeks; either way I urge you to check the film out if it shows in a theatre near you.
If you want to find out more about Daniel Tarrab and Andres Goldstein, check out their website.
Quartet Records have released some fantastic titles of late, including rare/unreleased scores by Henry Mancini and John Williams. Look at their full catalogue here.