'Stand Back, Buenos Aires!'
I got an email before Christmas from one half of a composing duo based in Argentina's Capital, asking if I'd like to hear some of their music. Of course I agreed that it would be my pleasure and I soon recalled the name, realising I already had an album of music by Daniel Tarrab & Andrés Goldstein.
The package arrived, courtesy of FedEx, and I settled down to listen. I was instantly moved by what I heard and immediately emailed Daniel to tell him how much I was enjoying their music. Having heard what I was able to play (some technical issues!) I have to admit I am thirsty for more… what beautiful music they make. Inheritance was the first disc to go in and perhaps the one which has stayed with me since, being so full of beauty, grace and emotion. The film, a documentary by James Moll (The Last Days), follows two women connected to concentration camp Commandant Amon Goethe – one his daughter, the other a Jew who found herself working as his housemaid at Plaszow – as they meet 60 years after the events of the Holocaust and retrace their experiences in Poland. Strong stuff indeed and I'd very much like to see the film now. The music though is a fitting accompaniment, reaching emotional depths with heartfelt clarity and performance. I can't recommend it enough.
Equally gorgeous but with a little more sunlight on its wings is La Puta y la Ballena (The Whore and the Whale), with which I was already a little familiar. Once again the performers gracefully apply themselves to the lovingly crafted score, this time littered with moments of high passion – thanks in no small part to the ubiquitous Argentine instrument the Bandoneon (performed by Néstor Marconi). Both this and Inheritance were released by Mellowdrama Records here in the UK… Seek them out!

Cut from a different cloth is La Senal which finds Tarrab & Goldstein exacting a fond homage to Bernard Herrmann. The score was composed for a thriller set during Eva Peron's twilight years as corruption and the mafia make their presence known in BA. The CD selection was brief but powerful, with intense string performances and a brilliant musical nod to Vertigo's famous 'Scene d'Amour'…
Quite enlightening then, hearing this wonderful symphonic music from Argentina… A brief glimpse of some music from Deuda (The Debt) on a promo DVD from the composers offered a whole different style, which sees them embracing a more inherent local flavour… It was fabulous music and I'd like to hear more of that celebratory, colourful Argentine flavour.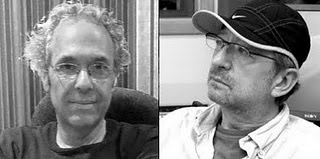 You know the names Santaolalla and Bacalov… now remember Tarrab & Goldstein, two men who I think are just marvellously talented composers who appear to absolutely love what they do and place that love at the very heart of the music they make. Discover more by visiting agdtfilmmusic.com