Daniel Tarrab: Creating The Musical Precision Of Being "The German Doctor"
Danny Gonzalez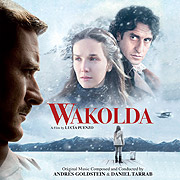 Who is Daniel Tarrab? Who is he? What is he? Well, he's a very gifted composer who along side his cousin, Andres' Goldstein, have become a composing duo out of Buenos Aires, Argentina which is as famous for Astor Piazolla's brilliant tango music, Gato Barbieri's memorable saxophone and the work of the great film music and jazz composer, Lalo Schifrin. Talent is all over the world and such a lovely place can garner unique talents that just simply transcend the public conciousness and be very popular. Daniel and Andres are perfectionists who literally tag team each other to make the best music possible not only for the films they work on, but for themselves personally which gives them personal satisfaction.
Daniel and Andres have formed their own label (since they are composing partners) as "AGDT" music as they combined their talents to create magical music that has led them to work with directors who appreciate and recognize their talents time and time again. The latest is with the film "The German Doctor" which is being released on April 25th here in the US by Samuel Goldwyn Films after being released internationally under the title of "Wakolda" throughout the rest of the world. The film truly displays their talents to a tee and most fill find their music to be intriguing and exciting, which is what film music should be about.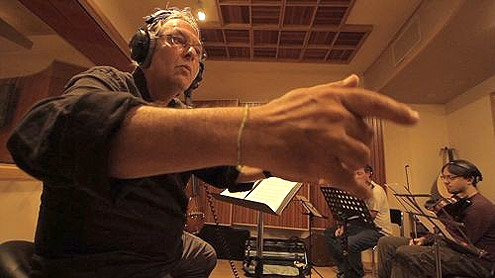 For this very special interview with Daniel, one half of the Argentine dynamic duo, candidly shares with me working with cousin, Andres, what got him passionate about music, their work on "The German Doctor", the recording sessions of the music, their favorite directors to work with and their future upcoming projects. So enjoy this very causal conversation with not only a great composer, but a truly class act. Enjoy.
Please tell the readers about what made you become interested in music and composing.
DT: I discovered music when I was 5 years old and heard The Beatles' I saw her standing there (a vinyl record I've kept!). It just blew my head off. A few years later my cousin, Andres Goldstein took me to the movies to watch The Beatles movie, "HELP." When I left the theater I was in a state of fever… I never got over it! I played the guitar, bass and drums all through my childhood, studied composition at the Catholic University of Buenos Aires. Bach, Beethoven, Brahms, Debussy, Wagner…But it was not enough to calm my hunger. In the 80s I moved to Boston to study at Berklee College of Music and I was there, I fell in love with film scoring. I might say I'm a well-educated Rock Musician.
My cousin Andres, who studied composition at Catholic University in Buenos Aires and was also my best friend was also a rock musician and when I came back to Buenos Aires from the US, we decided to join forces, move forward and started to compose together. If Lennon & McCartney had done it, why not us? All our film music work has been written by this duet: Goldstein & Tarrab (AGDT Film Music).
Regarding my interest in movies…I was always deeply impressed by the incredible amount of work behind those enormous Hollywood pictures from the 60's, movies I watched on TV and left an indelible impression.
Let's talk about your recent work on the film "The German Doctor" which will be released here in the United States on April 25th. What got you interested in this project?
DT: We had previously worked with Lucia Puenzo in "XXY" and "The Fish Child." We have a fantastic understanding with Lucia. The story is overwhelming, incredibly well told and visually amazing: the Nazi Joseph Mengele in Argentina, in Patagonia in the early 60's, a historic thriller about this monster. It was a big temptation and artistically, a great challenge.
After spotting the film with your director, did She immediately tell you what he wanted musically from you for the film?
DT: Not really. We watched the movie together and we didn't talk immediately about the soundtrack.
We watched a movie! She always has good ideas in mind but we never talk in musical terms. We think that every movie has a language of its own to express itself. Our job is to read between the lines!
Did the theme to the score come to you immediately after watching the film or did I take you a while to figure out what kind of a theme the film needed to make the music work?
DT: Once the aesthetics and the kind of sound has been established, which means: will be it be orchestral? a big sound? raw and dark sound ? minimalist? organic? Synths? a mixture of everything? Andres and I distribute the cues and then we get started. A great part of how appropriate a soundtrack is for a particular movie depends on these decisions!! This conceptual agreement between us and the fact that we are each other's producers makes the process of finding the theme and 'the sound of the film' very accurate. Since Andres and I have many miles composing together, we have found our own voice and 'the theme' might come out from any of us at any time.
Music is magic, it might appear after 5 minutes or 2 days.
How much music did you end up recording for the film?
DT: The original music for the film is about 30 minutes.
What were the recording sessions like?
DT: The recording sessions were wonderful!! We had a double string quartet plus electric and acoustic guitars, Armenian duduk, Turkish oud. The musicians got into the emotional mood of the thriller and played according to it. It doesn't work the same if you just go:
The Nazi hunt is on!
1-2-3-4 - Play!!
And they play their notes with that emotion in their fingers. It was fantastic!
Will there be a soundtrack released for the film?
DT: Yes! It was released worldwide by Quartet Records and is available on iTunes. It can also be found under its Spanish name, "Wakolda", on ITunes and Amazon; the digital version can be found as "The German Doctor."
If a soundtrack were to be released, how would you assemble the album?
DT: The soundtrack includes a few tracks by Warren Ellis, Nick Cave and Dirty Three and we assembled the music originally composed for the film with these tracks and it flows beautifully. The whole soundtrack is very homogenous and expresses clearly the tension and the emotion of the movie.
What does it mean to you as a composer to have a soundtrack released of your music?
DT: First of all, it becomes a beautiful testimony of our work, and since most of our film music work also stands alone as concert music it is great to have it at hand to reproduce on stage the right emotion in front of an audience.
You also scored the one part of the documentary P.O.V. Please tell us about that?
DT: Back in 2000 we'd been asked by Academy Award Luis Puenzo to score a documentary about the survivors of the Holocaust, "Some Who Lived." This film was part of the Broken Silence Series produced by Steven Spielberg. Academy Award winner James Moll was the executive producer of that enormous project and we started our relationship back then.
In 2003, James invited us to compose the music for his documentary feature, "Inheritance" which is the story of Monika Hertwig, a soft-spoken woman grappling with a profound legacy left to her by a father she never really knew. Monika's father was Amon Goeth. Amon Goeth was the prominent Nazi leader and commandant of the Plaszow Concentration Camp. When "Schindler's List" opened in 1993, Monika watched Ralph Fiennes' chilling portrayal of Amon Goeth. She found this depiction of her father so disturbing that she left the theater more than once. The film was outstanding because of the story itself and also the magnificent way it was told. Of course, it was a big challenge to compose and produce music for such a project and such a director…It was fabulous!!
James is based in LA and we live and work in Buenos Aires. This experience proved that today we can work with any director anywhere in the planet. He sent us the cut and we started composing and producing the demos. Due to the time difference we set daily video conference 'meetings' at 9 am LA Time - 2 pm Buenos Aries Time!, James would have checked the demos and we reviewed adjustments together if needed. When the film and the soundtrack were locked we set the recording sessions. James jumped into a plane and the next day the three of us were in front of a 40 piece orchestra, our dream team from the Buenos Aires Symphony Orchestra to record Inheritance. After the final mix, James went back to LA with the soundtrack of his film. The film won an Emmy, and for this soundtrack Andres and I won the Discovery of the Year Award at the World Soundtracks Awards at the Gent Film Festival-Belgium.
Is it different scoring a documentary as opposed to a film such as "The German Doctor" or "The Fish Child" for example?
DT: Absolutely yes! In documentaries such as "Inheritance" or "Some Who Lived", the emotion is provided by people like you and I, talking about their suffering, stories that changed their lives forever. Composing music for that kind of film produces a strong impact when you are working on it because you get emotionally involved in a very different way than in fiction. This kind of projects demands a huge emotional and ethical commitment. It is also crucial to be very careful to avoid underlining through music things that should not be emphasized.
We grew up as composers watching fiction films. Behind us there are so many magnificent pieces of work in all genres of film music, and having listened to Bernard Hermann, John Williams, Ennio Morricone, Nino Rota, to mention just a few Maestros, gives us the certainty of what is right and what is wrong. Anyway, both fiction and documentary demand hard work.
Another film that you scored is one that I found very intriguing was the 2007 film "XXY". Please tell us how you got involved with the film and what was your attraction to it?
DT: XXY was our first film with Lucia Puenzo and her debut as a director. The core of the story is about sexual identity: Alex Kraken is a 15-year-old intersex person, with both male and female genitals, who has been living as a girl and using medicines to suppress masculine features, such as a beard, and to attempt to have more feminine features. However, recently Alex has stopped taking her medication…The idea and the script were remarkable and quite unique.
Did you know after viewing the film what kind of a score the film needed or did the director tell you what he wanted from the start?
DT: Lucia always has very clear ideas about what she expects from the music, what kind of emotion lies underneath every cue. After viewing the film, Andres and I arrived at the conclusion that the kind of soundtrack required by this film should be completely different from any of the music we had written in the past: no large string orchestras but few elements, a very organic sound and deliberately ambiguous atmospheres. The result was a different kind of soundtrack where the characters not necessarily have their own themes. I think that this aesthetic requirement Lucia's film was asking for led us to write very contemporary music with a strong personality.
"XXY" was a great success and won 20 international awards around the world including A Certain Regard at Cannes Film Festival. With "XXY" and Inheritance we received the World Soundtrack Awards-Discovery of the year 2007.
Is it easier for you when a director immediately comes to you and says that "I want the music to sound this way or this scene needs some more strings"?
DT: Life is easy when directors know what they want. They don't usually get involved with the orchestration. However, they might certainly say: this is too big, I'd like it to sound lighter…
Is there a type of film that really intrigues you as both a musician and a composer?
DT: All film genres have an appeal of their own. Drama, Melodrama, Thriller, Adventure, Science Fiction, Suspense-Animation I love them all. Our 11 feature films cover the whole range and fortunately, we were able to keep our own voice in every one of them. But we also love to be out of the box composers as well!
What is your favorite film score that you've written?
DT: "The German Doctor", "Inheritance", "XXY" and "El Arca" (Animation).
Who is your favorite director that you've worked with so far in your career?
DT: Lucia Puenzo, James Moll, Luis Puenzo.
What is your favorite film that you've personally scored to date?
DT: We've been lucky, all the films we've scored demanded very different kinds of writing that allowed us to explore as composers and performers unexpected places in ourselves that we didn't even know we had. Sorry to say…Love them all!
Please tell the readers about your future upcoming projects.
DT: We are finishing the score of a wonderful animation short film called "Arroz & Fosforos (Rice & Matchsticks)" which is animation for adults.This little jewel is written and Directed by Javier Beltramino and the Art Direction is by Nelson Luty. It has been recorded by a chamber string orchestra plus Charango, Ronroco, (small Bolivian Andean stringed instruments of the lute family) and Venezuelan Cuatro. You'll hear about it very soon…
Very special thanks to Daniel for being so generous and giving with his time during his hectic schedule to do this interview me through Facebook. I've never met anyone so dedicated to getting interview right and I truly am grateful for it! Gracias amigo!
"The German Doctor" will be released theatrically on April 25th by Samuel Goldwyn Films here in the U.S.
Please feel free to visit Daniel's official page on Facebook for the latest updates and projects @ https://es-la.facebook.com/daniel.tarrab
Please feel free to check out Daniel & Andres' official website @ http://www.agdtfilmmusic.com/ for more information on them along with samples of their work along and current and future projects.
The soundtrack to "The Germain Doctor" aka. "Wakolda" is available from Quartet Records @ http://www.quartetrecords.com/wakolda.html
Here's Daniel's Bio:
"Daniel Tarrab was born in Buenos Aires, Argentina. He studied Music Composition at the Catholic University of Argentina (UCA) and Film Composition at The Berklee College of Music, in Boston, Massachusetts (USA). He composed with Andrés Goldstein the original score for eleven feature films. In 2012 he was invited by Dirk Brossé to compose music for the album "Haiku".
In 2013 Daniel Tarrab & Andrés Goldstein were invited by Dirk Brossé to compose a one minute piece for Film Fest Gent —including international prestigious talents such as Angelo Badalamenti, Mychael Danna, Alexandre Desplat and Gustavo Santaolalla— as part of the celebration of the 40º anniversary of the Ghent International Film Festival (Belgium) In October 2013 AG & DT were invited by the Secretaría de Cultura de la Nación to perform a selection of their Film Music work in a concert at the Teatro Nacional Cervantes."